*Mile 14-17--
After seeing my family, I was feeling good. Although it didn't take long for fatigue to hit me like a ton of bricks. As we turned into the neighborhood around Clairmont/Mission Bay. People at one of the houses were handing out orange quarters. That sounded YUMMY. I grabbed a couple... sticky, but good.
Never in any of my training runs did I feel the need to stop and walk. In fact, when Jen or Lisa wanted to stop, I often did it reluctantly or not at all. On the eighteen and twenty mile runs, I ran alone for the last couple of miles because Lisa wanted to walk. I am one of those people whose legs feel super heavy when I stop and I find it difficult to get back into my rhythm. Well.... as anyone will tell you, you throw everything out the window during a marathon. In the end, I was looking forward to the water stops just for an excuse to walk. I think that Lisa could have skipped a couple of the water stops, but she stopped because we were in it together. I can't begin to thank her for that. Luckily, I never walked for long because I knew that the longer I walked, the greater the chance I would walk all the way to the finish line.
*Mile 17.6 The Powerbar Gel station--
I had gone through all three of my gels and I
think
most or all of my Clif Shot Blocs. Why something different, you may ask? I need variety. If you have ever tasted Gu or Powerbar Gel, you know that you don't eat it for the taste. The Shot Blocs are kind of like big gummy bears and I like them. Gels are faster, so I try to bring those too.
I knew I needed at least one more gel, maybe more. I grabbed a vanilla, but then I saw my favorite-plain! It is just slightly sweet and after hours of running, the last thing you need is a mouthful of sickly sweet goop. The guy actually handed me two. To be honest, I think I only ate one of them... but I really don't remember. I think that if they are going to give away gel, they should locate the station early. I saw on the website for the
National Breast Cancer Marathon
that Gu was handing it out starting at mile 7 and having it available every three miles. That would have put Laura in good shape when she missed her hubby at mile 12.
Lisa wanted to stop and stretch a bit at the water station following the Powerbar Gel. I was all for it. I must have looked bad, because when I was using one of the water tables as support to stretch, one of the volunteers handed me another water. I took a couple of Tylenol (which, in retrospect, I should have taken much earlier). It kicked in around mile 19 or 20 and really helped alleviate some pain in my legs.
*Mile 18 (here is where we get into the TMI portion of the report)--
Men and women who have never had children will not relate to this next issue at all (and can skip it if you want). I have found out in the past year or so that it is a "dirty little secret" among more women than you would think. I have rarely read accounts during my recent blog obsession, but once I became more comfortable talking about it, I found quite a few women who suffer from the same thing. We all have
stress incontinence
. My friend, Karen, candidly said when we had the conversation at Stroller Strides one day, "oh, you're a pee-er?" Yikes. I never thought about it that way, but yes, I am *blush*
What it means is basically my bladder leaks a little bit when I run, jump, cough, sneeze etc. What caused it? Hormones. Age. Oh... and the fact that I delivered two 9 1/2 pound babies vaginally. My doctor tells me to do
Kegels
. I haven't met a woman who suffers from this who benefited that much from Kegels. Kegels only do so much. I just wear a pad every time I go out to run.
OK... back to the race. As I left the water station, my pad (which was saturated by now due to proper hydration) started rubbing. If you have ever had chafing, you know it is not pleasant. I didn't want to find out how much worse it would be down in the nether region.
D'oh!
I had to dump this thing fast. I must have looked odd trying to adjust my underwear. We were now in a neighborhood filled with fans. I couldn't just duck behind a bush and discard my trash. I had to find a bathroom. It was about that time that I started getting stomach cramps. Now I had
two
reasons to find a bathroom.
We found one right as we turned onto Crown Point Drive. There were a couple people, but not a serious line. Lisa stopped with me and decided to go herself. We probably stopped for two or three minutes. I took off the offending pad and replaced it with a new one conveniently stashed in my fanny pack. I also eliminated my loose bowels with relief and thought..."third poop of the day, that should do it." Hmmmm....
*Mile 19--
Damn iPod stopped playing. Ironically, Kenny's iPod did that to me during my very first race last summer. Since then, I have learned how to reset it. I know I should be able to find it in me to run without it so that I can run races that don't allow headphones, but 3 hours and 33 minutes into it, I was really getting into a music groove. The bands didn't come often enough and frankly, I like my music better.
So I had to reset my iPod. Normally, this wouldn't be such a big deal. However, I have been logging my miles with my Nike+ and I REALLY wanted to log the marathon. I was pretty sure that resetting the iPod would erase the Nike+ data. I was right. I was bummed when I didn't have my sensor on the 18 miler, you can only imagine my disappointment during the race. I was really looking forward to my split times and one of the famous people saying, "congratulations, you just ran your longest run." Well, I couldn't dwell. So I moved on and by mile 20 or so I had found the right playlist and was feeling good.
*
Somewhere between mile 20 and 21, along the bike path near SeaWorld Drive--
Well... the stomach cramps started again. 'You've got to be kidding me!' I thought. I mean, I am not a very
regular
type of gal and for me to go four times before noon is unheard of. I can deal with the cramps... it's mind over matter, right? But then (and this is when I am getting into the
serious
TMI zone) I had to clench my butt cheeks. Kenny calls it prairie dogging *blush* I couldn't run that way for another 6 miles! I was seriously afraid that I would be "that poop girl" that people would go home telling stories about. I HAD to find a toilet.
There were two porta potties, but there were people waiting. I couldn't chance that there wouldn't be another one for several miles. I am pretty sure I wasn't the only one suffering from the runners trots. A few of the racers in line were men. I doubt a man would wait in line to pee when there was a perfectly acceptable bush nearby. Did I mention that one of the possible contributing factors to this ailment is high doses of vitamin C? Hmmmm...what do you think was the main ingredient that I had been pounding for days to make it so I could get to the finish line? Irony.
This is where Lisa really earned her major kudos for the day. I could tell, she didn't want to stop. I told her to go on. Nope, she came this far with me, she said that she wanted to finish with me. Awwww.... that meant so much. She was having the run of her life and she waited for me. She told me that she was going to walk and for me to catch up with her. I finally got my turn, was able to go AGAIN and the tummy cramps stopped and I was good to go. In fact, I was feeling pretty good FINALLY.
A half mile down the path, there were about six porta potties with NO LINES. DAMN. Ah, more irony. Oh well....
*Mile 21
-- Check out these pictures. Lisa and I saw the cameras and decided to smile for the them. I think at this point we
knew
that we were going to make it to the end. I am SO glad that I look that happy that far into the race.
Me crossing the 21 mile point
(click on the links for better pictures)
Lisa and I
*Mile 22--
This was a funky turn-around before getting onto Pacific Highway. This was a key point in my race for me. The band was talking to the runners and I'm not sure what else the guy said, but what stuck in my mind was, "hey runners! You're still on pace to do sub-five!" That was all I needed. My 4:30 goal was long gone, but I could still run my first marathon in less than five hours. I was renewed, if only a little bit. It was enough.
*Miles 24-25 or so--
Lisa's husband, Alex, found us on his bike with little Olivia in the
toddler seat
. It was just the thing we needed to give us a little boost. We waved at little Olivia who was serious as always (that girl is going to be a judge someday). At this point, we just kept on running. I think he caught up to us around the water stop at 23.5 miles. He tried to tell us something, but neither one of us heard him. Apparently, he was telling us to look to the left at the finish line at the tv camera for the live finish as her parents were watching from Texas online.
*
Mile 25--
We ran right through the water stop. We just looked at each other and knew. Both of us had done well with hydration. Now was time to finish this thing! We ran that last mile hard. My breathing felt pretty labored for the first time. I know I was pushing myself. Right before we turned into the gates of MCRD, we saw three of our Stroller Strides buddies- Pam, Cassie and Yvette. What a great final boost before the home stretch!!
*Mile 25.7, 1/2 mile to go--
This is when mental toughness really played a part. I was having a really hard time catching my breath. But I knew that I needed to run that last mile and leave everything out there. Lisa asked, "is that the finish line??" No. It was a Rock-n-Roll Marathon Sign informing us that we had a 1/2 mile to go. I think it was there to encourage, but I had to dig deep and tell myself "yes... you can run this hard for another 1/2 mile!"
And then, there was the stretch. We could see the finish line and the crowds cheering. This was it! As we ran next to each other, I knew that we would finish exactly together. I reached over and grabbed Lisa's hand. We were going to finish in style. The announcer was cheering everyone on to hurry because the clock was about to hit the five hour mark! Luckily, we knew that we had crossed the starting line six minute later than the gun. We did it... we finished in under five hours!!!!!!
Don't we look happy?
(clidk on links for bigger pictures)
Here we are!
I totally thought that I would be crying big ugly crocodile tears when I crossed. But they didn't come right away. I started to sob when the woman placed the finisher's medal around my neck. The tears came and I was so happy. Later, when I was waiting for Lisa to get her chip cut off her shoe, another wave of emotion hit me. I must have looked pretty bad, because a medic came up and asked if I needed help. LOL. No... I'm just emotional.
Here we are after all is said and done.
Here are some pictures from after the race:

One of my biggest fans is also a fan of the medal.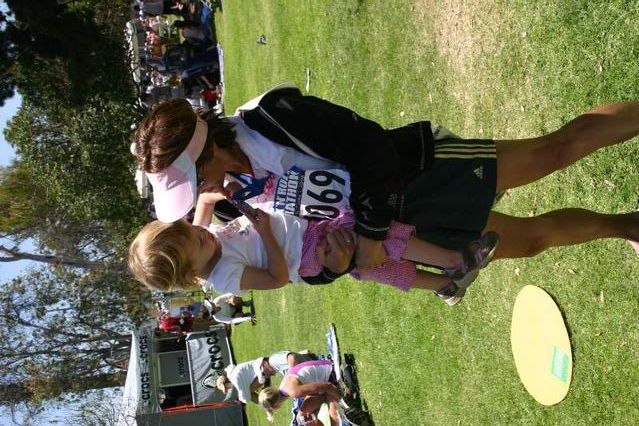 Another one of my biggest fans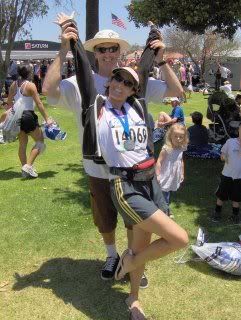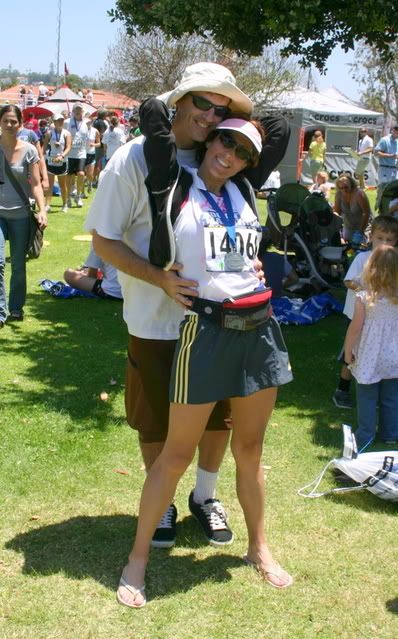 Here are three out of four of us. Unfortunately, since Laura finished quite a bit ahead of us, her kids were getting antsy and they had to leave.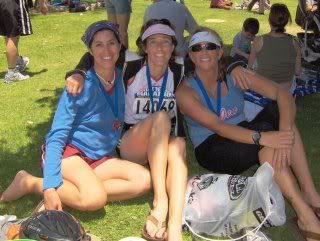 Here are Jen and I under the Rock-n-Roll Sign: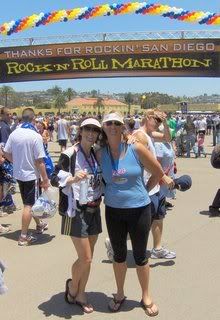 And here I am in all my glory! Hmmm... maybe it was time to take off that visor! :-D