This weekend we hit one of the bike industry's biggest events, the Sea Otter Classic at the Laguna Seca Speedway in Monterey. It was interesting to meet a lot of the people that Kenny has been talking about and see the mountain bike culture up close. I can see its draw and will undoubtably be doing more.
I did an adventure race on Friday. I think that will be my new race of choice. It was so much fun. However, the race was WAY more difficult than I had anticipated. I think most of the participants, at least the ones in our group, felt the same. It started out with a 2.7 mile run. Piece of cake, right? Nope. There was a hill steeper than our street in the first 500 feet before we were even warmed up. From there we went into trails. We had to slide down on our butts a couple of times and climb up back up the hills grasping on roots. It was a fun run, but not your every day 3 mile run.
After the run, we got on the bikes. It was supposed to be a 5-7 mile bike ride and it was 12. For some reason, I thought that the ride would be on fire roads and would be somewhat easy. Yikes. There were some serious climbs during that ride. I had to walk the bike a few times to get up some of the steep hills. I still think I did ok for not riding a bike for many many years. I had to reteach myself how to shift, for crying out loud. I was happy to finish it without falling! On the downhill part, I really had to force myself not to ride the brakes completely. I finally figured out the best way for me not to get too nervous about going fast. I said, out loud, "WHEEEEEEEEE...." Seriously. Luckily, no one was near me. They would have thought I was a lunatic.... whizzing down a single track trail yelling, "wheeeee." LOL. I also talked to myself during the climbs saying, "you can do it," "you're a winner," etc.
By the end of the ride, my legs were jello. But it wasn't over. I then had to complete an obstacle course. It started with quick-stepping through tires, running an s-course on a steep hill, and pulling a water-filled 5-inch PVC pipe around two tires. Then we had to crawl under some netting, military style. There were also some hurdles and holes in plywood to crawl through. It ended with climbing over a 10 foot wall. I crossed the finish line with 2 hours 19 minutes on the clock. I was worked!
Needless to say, that was much more than the five mile run that I was scheduled to do that day. I wanted to avoid over-training, so I decided not to run the full 16 miles on Sunday. I wasn't happy about running that far by myself anyway. I thought that 10 or 12 would be a good run to keep my mileage up without overdoing it. I ended up running eight miles on Sunday. It wasn't the 12 I had planned on, but Kenny had to get to the Sea Otter venue and I didn't have as much time as I had hoped.
The eight miles that I ran was probably the most beautiful and serene run I have ever run. I LOVED it. It was just what I needed. I started at the Fisherman's Wharf. You could smell that great smell of a wharf. It is sort of fishy, sort of salty... [these pictures were taken with my phone]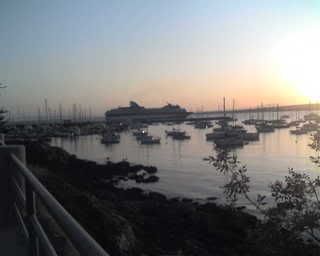 I ran on a nice wide bike path through historic Cannery Row. The path then went along the ocean a bit. The bike path ended and there was a foot path along the coast.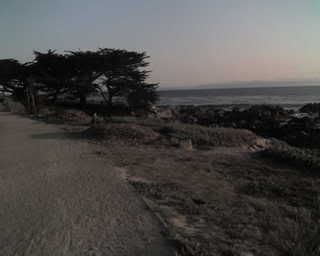 The path went right along the sea wall and weaved among groud cover in the sand. The waves were crashing on the rocks, sending spray into the air. I could hear sea gulls and sea lions. I remembered why I didn't enjoy living in Kansas and Missouri, being landlocked. The ocean is truly where I love to be. Even if I don't get down there as often as I'd like... I always have the option to go there on any given day. I ran out to the end of a point. There was a lighthouse and a golf course. I thought that I had run to Pebble Beach, but looking at the map, I think the golf course is the Pacific Grove municipal course. I turned around and ran back through the same path.
I know I could have run longer and even wanted to run longer had I not had the time deadline. I was just glad to be able to get out and get some sort of longish run in. Next Sunday is 17 miles. I shouldn't have any excuse not to finish that one strongly!